Eat Drink Blog delegates, prepared to be skooled!
The Classroom Bar – Perth's home of avant-garde bartenders – presents the third choice of Sunday activity for delegates – a one-off Cocktail and cuisine Masterclass.
The Classroom Bar is one of WA's premier Small Bars. One part time capsule, one part small bar, the space pays tribute to the school days of yesteryear and fond memories of childhood. It presents a distinctive, 'behind our school' theme experience that is currently not offered elsewhere in Australia or the world.
The bar has three specially-themed areas: the Classroom, the School Library and School Canteen. The venue has been designed, lovingly by hand by the owners, to evoke the cherished memories of schooldays. With donations from local schools and some lucky finds on Ebay, 90% of The Classroom's fit-out was assembled from recycled and reused materials.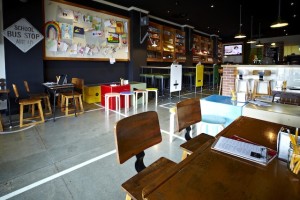 The walls are lined with dusty chalkboards, superhero-themed lunchboxes, old-school listening stations, gold-embossed encyclopedia sets, rusty pencil sharpeners and faded school satchels. Recycled wooden school desks and benches make for quirky tables, and the bar's collection of spirits reside in a row of repurposed gym lockers.
The Canteen's menu is creative and playful, offering smartly updated tuck shop staples, using thoughtful techniques to create dishes that have a point of difference and intense flavours.
The Classroom prides itself in pushing the boundaries of contemporary mixology and modern beverage. Its cocktails have become the signature element of the Bar's offering and set out to introduce and champion new offerings never seen before in Perth. It's signature cocktails are Liquid Nitrogen Espresso Martini (exemplifying the dramatic qualities of liquid nitrogen with freezing the crema of the cocktail) and Bunsen After Burner (featuring caramelized bananas on a Bunsen Burner) which combine theatrics with bartending skill to provide twists on classic cocktails, while keeping in line with an education theme.
Join the owners of the bar themselves as the guide you though a tailored one-off cocktail and cuisine matching masterclass to explore the possibilities of food and cocktail matching!
You never stop learning, so get back into The Classroom!
Check out The Classroom happenings on Twitter and Facebook.