Adam Roberts, Amateur Gourmet, @amateurgourmet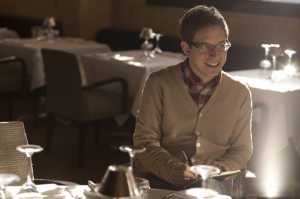 Adam Roberts created his award-winning food blog The Amateur Gourmet in January 2004. Since then, he's published two books ("The Amateur Gourmet," "Secrets of the Best Chefs") and hosted several shows for Food Network online ("The FN Dish," "The Amateur Gourmet Show," "The Taste Test"). He currently writes for Food & Wine Magazine, the Epicurious Epi-Log, The Huffington Post and Serious Eats. He divides his time between Los Angeles, CA and New York, NY.
Watch the video that Adam made for Eat Drink Blog 4!
Anthony Georgeff, Manthatcooks, @manthatcooks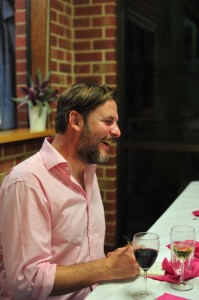 Riding on the cultural back of emergent technology like a Marxist wet dream, English teacher Anthony Georgeff started Australia's first food blog, Spiceblog, in 2003. While others still simply had an inchoate desire to discuss their muffins on the internet, he was forging ahead with hand-coded italics. In 2006, a time when everyone was talking about Rick Stein's haddock recipes, he was at the helm of a local WA food magazine that championed local food, chefs, and farmers. He then collapsed from exhaustion in 2011 and now spends his time reading just one cycling blog, making dense, complex political arguments on twitter, and doing occasional dinners.
Cynthia Chew, The Food Pornographer,  @TFPtweets
Cyn, also known as TFP, began her blog The Food Pornographer over 8 years ago. It's now one of Australia's top food blogs, with a worldwide audience and over 8,500 followers across Facebook and Twitter.
With a PhD in English and a camera that goes everywhere with her, she loves writing, taking pictures and telling stories.
Through her blog, Cyn's had opportunities to travel and eat her way around international destinations including Malaysia, United Arab Emirates, New Zealand, Cambodia and Vietnam, as well as closer to home, meeting producers in WA's Great Southern and South West regions.  She's immensely proud to be Western Australian and loves to spread the word about Perth and WA's ever evolving food scene.
Since 2010, Cyn's given guest lectures at Curtin University, speaking about blogging and touching on issues such as privacy, ethics, personal brand, online identity and writing for an audience.
The Food Pornographer was a finalist in the Best Food Weblog category of the 2008 Bloggies and has been featured on Nova 93.7 FM, Twin Cities FM Perth, the Sydney Morning Herald and Perth Sunday Times magazine (STM). This year, Cyn was included in the Sunday Times' list of WA's Best and Brightest.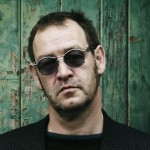 Ed Charles's food blog, Tomato, is one of the originals in Australia having been founded in 2005 and since then he has grown to become influential on Twitter with nearly 9,000 followers.
He regularly speaks and broadcasts on food and social media issues and now runs the digital marketing and content agency Tomato Media, working with some of Melbourne's top restaurants and chefs in addition to other small and medium-sized businesses.
He was a driving force behind the first Eat Drink Blog and is co-founder of the Melbourne Fringe Food Festival.
Ed has reviewed for Gourmet Traveller and The Age Good Food Guide in addition to various restaurant competitions and caffeinated guides.
He had a regular food column in the Herald Sun and his food writing has been published in The Bulletin, The Australian, The Age, Gourmet Traveller, GQ, Selector Magazine and online for SBS Food and The Punch.
He currently reserves his food writing for his blog and spreads his criticism across various review sites in addition to Facebook, Twitter and Instagram.
Emma Galloway, My Darling Lemon Thyme, @mydarlingLT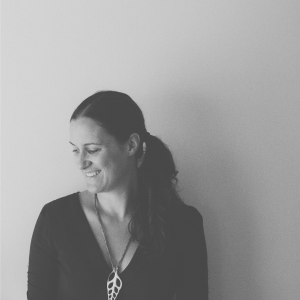 Emma Galloway is a former chef, who spent most of her career working in the pastry section of café's, restaurants and top-end catering companies both here in Australia and back in New Zealand, where she is originally from. It was after leaving the kitchen to start a family that Emma and both of her children were diagnosed with gluten and lactose intolerance.
In her award-nominated blog My Darling Lemon Thyme, Emma shares stories and inspiring real food recipes that are vibrant, creative and nourishing.
My Darling Lemon Thyme was a finalist in the Saveur Top Food Blog awards in 2012, was named number 5 overall in the Top Mom Food Blogger awards on Babble.com, is currently in the top 5 Food and Wellbeing blog awards on Kidspot.com and has been featured in numerous magazines, newspapers and websites including foxnews.com and Oprah.com.
Emma has just finished writing, styling and photographing her first cookbook My Darling Lemon Thyme, which is due to be released early 2014.
Jeremy Hulsdunk, Five Senses, Coffee, @twitter.com/5Senses
Jeremy started in the coffee industry in a part time job in his families franchise café in 2004. Quickly falling in love with the industry, and finding he had some skills, he started to enter Barista Competitions. After some good results in some Franchise in-house competitions, including winning at State and National levels he entered the first Western Australian Specialty Coffee industry competition in 2006 and won. From there he moved into the specialty industry, working as a barista for a year at Epic Espresso in West Perth. From Epic, he pulled up stumps to move to Paris where he worked in a training position for a small franchise called Alto café. In 2009 he moved back to Perth to take over the Western Australian Barista Academy (Now the Australian Barista Academy) as the Head Trainer and Manager. In 2010, he re-entered competitions successfully taking out the WA Latte Art Championship and WA Cup tasting Championship, with a runner-up in the WA Barista Championship in the same year. He then went on to win the WA Barista Championship, becoming the first person in Australia to hold all three awards. Jeremy is now the Sales/ customer service manager for 5 senses coffee in WA.
Kiren Mainwaring, Co-op Dining, @ChefKiren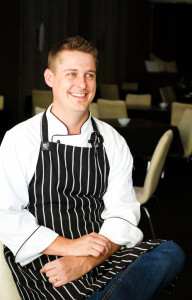 Kiren Mainwaring began his cooking career in Wales, UK where his passion for local and wild produce began. His philosophy of using only fresh and organic produce is premiered throughout a degustation menu in his highly awarded Swan Valley restaurant, Dear Friends which was recently named no. 77 in Australia by Gourmet Traveller and no. 3 in WA.
Kiren, who was also this years Gourmet Traveller Next Generation Chef representing WA, along with his wife Kelli are also the owner/operators of an establishment in East Perth called Co-Op Dining, created with the aim of providing our guests with an opportunity to experience a regional degustation menu, in modern surrondings and an emphasis on wild foraged foods and produce from Western Australian, passionate,  responsible farmers and small family run suppliers. Here, Kiren has been able to combine his wonderful repertoire of culinary skills with the array of fresh local produce and wines.
Fine food and wine has always been a big part of Kiren and Kelli's lives, and working with such an abundance of fresh local produce and beautiful wine is the ultimate reward.
Max Brearley, Pub Diaries, @maxbrearley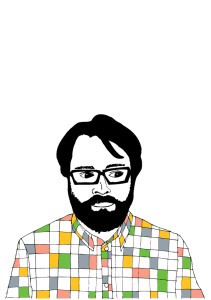 Max Brearley is a freelance writer and a partner in Offshoot Creative, a content creation studio based in Perth. From writing about his London pub experiences on pubdiaries.com he has gone onto life as a freelance. His writing credits include regular contributions to titles in the UK, US and Australia such as The Guardian, The West Australian, Gin & It, View London, Jellied Eel, Scoop, Box, Crafty Pint and Brews News. A Yorkshireman by birth and a Londoner at heart, $12 pints and 40c summers are his natural enemies. He is slowly coming to terms with life as a Sandgroper.
Michael Tucak, Creative Legal, @creativelegal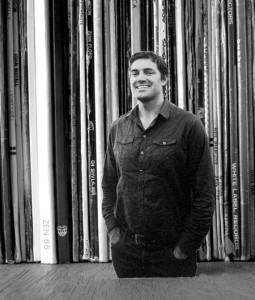 Michael is an enthusiast of the arts, and he is philanthropic in his approach to arts and creative industries. He is also a skilled and experienced arts and entertainment lawyer over a 15 year career.
Starting his career in commercial law in Perth, he also began a long stint co-hosting a local music radio show on RTRFM in Perth – this mixture of a regular involvement in the music scene and legal work by day saw his trajectory move strongly in the direction of the arts.
"I never looked back", he tweeted. "I committed my skills to #arts".
Michael has worked in both top-tier and mid-tier legal firms (Blake Dawson in Perth and Herbert Geer in Melbourne), but has focussed on the specialised 'boutique' sector – several years before beer and cider industries started doing the same. Work with renowned WA intellectual property and technology firm Garton Smith \ Owen, in creative Fremantle, and its Perth offshoot Owen Legal + Corporate gave him a duality of creative and commercial skill – intellectual property in arts and tech, alongside stock market floats and M+A.
"It was a dream come true, like mixing Bon Iver with Sophie Hutchings".
After a shift to the east coast, he worked at record label SonyBMG, including DVD projects, but was lured to Melbourne by a Masters at the Australian Graduate School of Entrepreneurship, where he later joined Mushroom Music / Mushroom Pictures. After a scholarship to study a successful university technology 'spin-out' program in the Netherlands, he established creative|legal in Melbourne in 2008, and Perth in 2012.
"It was fantastic", he said – or so the photos on Facebook suggest.
Michael carries a commitment to assisting and supporting arts and creative industries – "I use my skills for good: for creative success".
Michael is a Board Member of the Emerging Writers' Festival and runs artist management company No Hoo. He can also be heard presenting 'Siamese Dream' on RTRFM 92.1, reflecting his love of indie rock from the 1990s.
Paul Kilmurray, Urban Locavore, @UrbanLocavore
Urban Locavore founder, Paul Kilmurray, was born in Western Australia and attended the University of Western Australia where he was editor of the satirical newspaper Prosh in 2000 and editor of the student newspaper Pelican in 2001. From 2003 to 2011 Paul worked as a freelance web developer, living and working in Melbourne, San Francisco and Buenos Aires.
It was in San Francisco that Paul was exposed to the locavore movement. "My local store was called Rainbow Market, an amazing coop which stocked goods from local farmers and producers. And every weekend in my local park there would be people wheeling around carts of bacon flavoured potato chips, peanut brittles, chocolate brownies … things that they had baked that morning and brought to the park to sell. The excitement about artisan food and mindful eating was contagious, it was a great atmosphere and great food!"
On returning to Perth in October 2011, Paul immediately began work on creating a business which incorporates his experiences in San Francisco, his love of food culture and his concern for a sustainable future. Urban Locavore is driven by a desire to discover and share the amazing food produced right here in West Australia.
Phil Lees, The Last Appetite, @phil_lees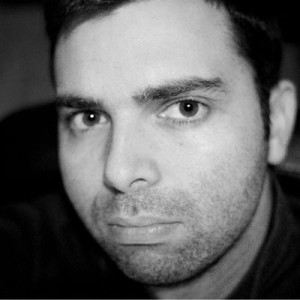 Phil Lees is the Social Media Manager at Tourism Victoria, and has spent the last ten years in digital marketing and media in Australia and South East Asia. He specialises in making money from social media.
In 2005 he moved to Cambodia and started the nation's first food blog, Phnomenon.com, named after the best pun that he has ever made. It turns out that Cambodian food is delicious and unlike the warnings in most guidebooks, is not likely to kill you with any immediacy. Gridskipper called him a "national treasure". Lonely Planet's Greater Mekong guide called him "the unofficial pimp of Cambodian cuisine". The terrible irony of writing about food in a nation where one third of the population is malnourished is not lost on him. It still keeps him up at night.
He built the Last Appetite in 2007 to chronicle his extended attempt to eat his way out of South East Asia, which will probably never happen. The New York Times laughed at a funny hotdog he saw.
He has covered global food issues for SBS's World Food Blog and occasionally gets something in the offline media at Wall Street Journal, Chili Pepper Magazine and others.
Russell Blaikie, Must , @mustwine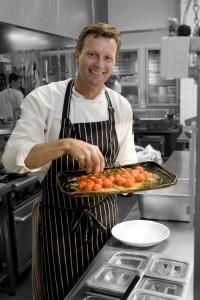 Russell's childhood on his parents' farm in the Margaret River region gave him a deep
understanding of seasonality and inspired a desire to cook.
He started his apprenticeship in Perth and went on to win many state and national
awards before travelling to London to work under Anton Mosimann, and at the two
Michelin-starred Terrace Restaurant at the Dorchester Hotel. During this time
travels through France, Spain, Portugal and Italy further developed his passion for
food.
After Head Chef stints at highly awarded restaurants across Perth, Russell opened
Must Winebar in 2001 with partner Garry Gosatti and other financial backers.
Revisiting his obsession with French bistro food, he developed an outstanding menu
with a modern touch and expert technique. The partners opened Must Margaret River in
January 2009, and Russell recently launched Must Underground, turning Must into a
bottleshop with a business giving customers access to Must's incredible wine list.
When he's not cooking up a storm at Must, Russell is taking charge of his bi-weekly
segment, 'Lazy Susan', on 720 ABC Radio's Drive Program with Russell Woolf, and has
authored a cookbook, Must Eat.
Russell is an ambassador for two charities – Food Rescue, developed to rescue fresh
food for re-distribution to Perth's needy, and SurfAid International, a humanitarian
organisation dedicated to improving the health, wellbeing and self reliance of
people living in some of the world's finest, yet isolated, surf locations.
Simon Park, The Heart of Food, @theheartoffood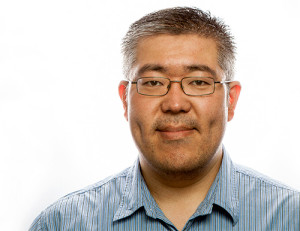 Simon is an IT professional, freelance photographer and the blogger behind the Sydney food blog, the heart of food.
Born out of his love for food and photography, the heart of food has led to many opportunities and endeavours. These include commercial photography work for The Australian Museum Eureka Prizes science awards, as well as numerous commercial events, charities and food producers. He was also one of the chief organisers for the 2011 Eat.Drink.Blog. Australian Food Bloggers Conference held in Sydney, as well as the organiser for the food photography competition for that year.
Simon shares his experience as a freelance photographer and food blogger with food photography workshops, and as a regular guest speaker for the UNSW PhotoClub.
Sophie Budd, Taste Budds, @ChefSophieBudd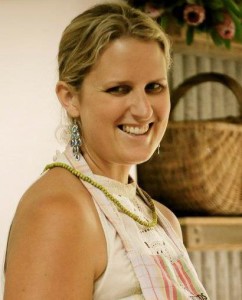 Sophie Budd stared catering college at 16 and quickly found her way on work experience at Rick Steins Seafood Restaurant in Padstow where she returned for many holidays and became a part of the team.  She became a head chef at the age of 21 and worked in a number of different restaurants before landing the job of  'chef de partie' at Jamie Oliver's Fifteen Cornwall.  And this is where she got her love of teaching, the rewards of coaching people and sharing knowledge to see them accomplished chef's at the end!
After a few months living in Sydney, Sophie flew to Perth in 2008 and settled. Living two streets away form The Cooking Professor's Cooking School in Mount Lawley, she knocked on the door and Peter Kenyon opened the door and from that moment the teaching began, forging a great friendship with Peter, Sophie's classes became very popular and always fully booked.  She started catering and also taught in many of the other schools in Perth. Taste Budds was born with fellow chef Sunny de Ocampo in Jan 2011 but in Nov 2011 Sunny departed back to his company 'EatGoodLife' and Sophie carried on Taste Budds Cooking Studio
A graduate of the renowned Cornwall Catering College in the UK, Sophie believes that it is not necessary to use complex, and often difficult recipes in a quest for preparing food that is full of flavour. Simple ingredients, simply cooked are her passion. Of the many aspects of cooking Sophie enjoys is teaching people how to improve their cooking skills and has an ability to instil confidence in those who join in her classes.
Thang Ngo, noodlies, @ThangNgo
Thang Ngo and his food blog, noodlies is neatly summed up by SBS Food "Embedded in Cabramatta in Sydney's culturally diverse south-west, Thang Ngo reports on popular restaurants as well as hole-in-the-wall eateries which still serve exciting authentic food. Vietnamese, Chinese, Lao, Thai, Cambodian, Iraqi, Lebanese, Italian, Chilean, Korean… he's eaten, blogged, and lived to tell the tale."
He agrees. Thang says noodlies is less about sausage rolls and more about Vietnamese fresh rolls (goi cuon), less triple-cooked pork cheek fine dining and more about humble ma & pa run eateries. He started noodlies four years ago because exciting, culturally diverse and food in Sydney's west were ignored. The best way to demystify these eateries is through pictures, both photos and via videos. Noodlies is now Australia's most popular video food blog with over 675,000 views on noodlies YouTube channel.
Noodlies has lead to food writing in traditional media: Thang writes for SBS Feast magazine, reviews for SMH Good Food Under $30, publishes opinion articles in ABC The Drum, Sydney Morning Herald, The Punch and he's a one time guest judge for Junior Masterchef.
By day he works at one of Australia's top media agencies, UM (Universal McCann) is currently AdNews Media Agency of the Year, B&T Media Agency of the Year and Mumbrella Media Agency of the Year.